A HOME FOR THE HISTORY OF GERMAN FILM
DESIGN RECEPTION COUNTER AND THEATRE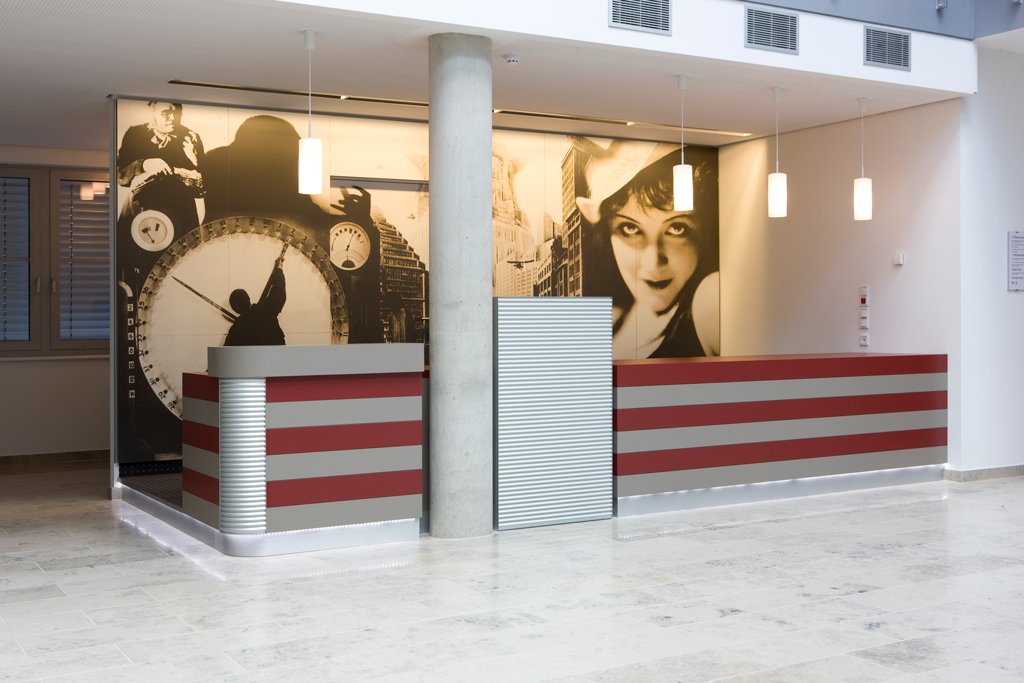 Reception counter foyer
The Friedrich Wilhem Murnau Foundation protects and manages the history of German film OF pre- and post-war Germany. This includes films like "The Cabinet of Dr. Caligary", "Metropolis", "The Blue Angel", "The three from the filling station", etc. Here the foundation has finally found a home that it shares with other important German film organizations.
The entrance hall
Many film professionals and guests frequent the building. For this reason, the central theme already has to be obvious in the entrance hall: A collage behind the reception was assembled using still pictures of these cinematic treasures.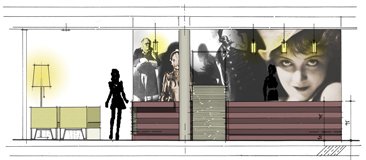 Design concept reception counter
The materials and colours of the counter furniture pick up on the building colour scheme and surface treatment of the exterior. When the reception lighting is turned off, the side with the individual suspended luminaire serves as the cinema's box office in the evenings.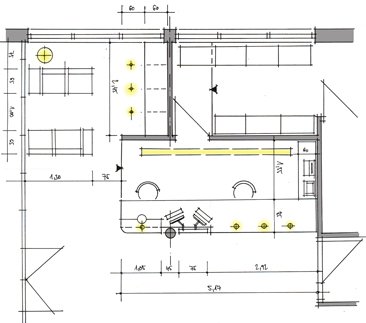 Ground plan reception counter
The movie theatre
The egg-shaped floor plan of the theatre presented a special challenge with respect to acoustics. The elaborate design involved different acoustic constructions integrated into the interior design appropriate to the building. Attention to detail played a central role in this project as the movie-going public here is quite demanding and various award ceremonies are held here every year. For example, the carpeting was custom-designed to match the colour of the stage curtains.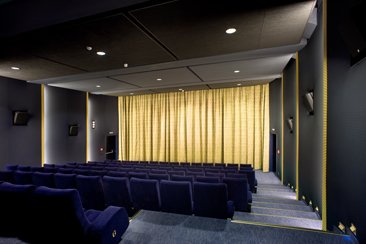 View on picture wall
The dark blue and gold colour design of the theatre corresponds to the colours of the coat of arms of the city of Wiesbaden. The dimmable light strips along the wall are highlighted and protected by gold-coloured pilaster strips made of corrugated aluminum that are reminiscent of a traditional design element in major movie palaces.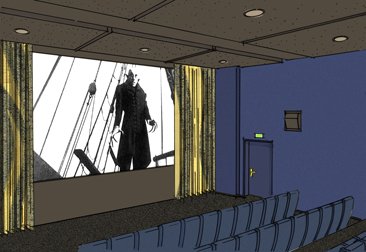 Design concept theatre
Source: Handbuch Innenarchitektur –  2010/11
Author: Anne Batisweiler
Publisher: Callwey Verlag
www.callwey.de
ISBN: 978-3-7667-1833-4