Cinema Experience at the Highest Level!
The first Dolby Cinema in Germany opened on May 11, 2019 in Munich. As a premium concept, this cinema features outstanding visual and sound technology embedded in high-quality design.
Patrons get to experience extraordinary cinema and enjoy the foyer design, which is in line with the overall concept. The basically s-shaped entrance pathway functions like an air lock between the interior and exterior worlds.
In addition to introductory film sequences displayed on one of the curved pathway walls, patrons are accompanied on their way to the auditorium by blue, indirect strips of light to the left and right, above and below. These are the only light source here and they continue in the auditorium. A surrounding blue strip of light ties the space together and culminates in a sort of halo, framing the movie screen. The colour of this lighting effect, which is affectionally referred to as "Dolby Blue", appears quite magical and is reminiscent of the atmosphere of our blue planet.
The elaborate acoustic planning and an incredibly realistic and dynamic sound experience significantly contribute to transporting patrons away on an adventure to another world and time.

The 3D Sound, Dolby Atmos, delivered by over 120 distributed loudspeakers which are cocooned away on the ceiling and walls. Dolby Vision also features black matt surfaces and "invisible" technology. Here we have dual laser projection, twice as bright as conventional projection, with an extraordinary depth of field, 500 times the contrast ratio, blacker blacks and a vivid, extremely broad spectrum of colours. In short: pure cinematic enjoyment.
Company Profile
ANNE BATISWEILER
Dipl.-Ing. Interior Designer | Dipl.-Designer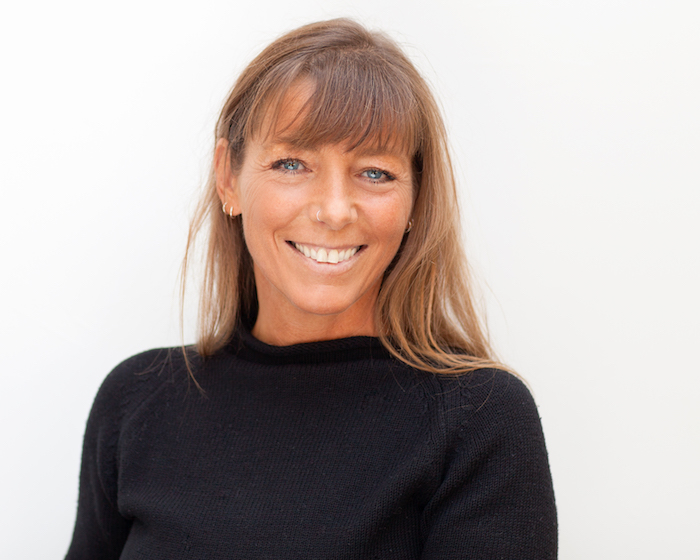 OFFICE
Kinoplanung Batisweiler, München | www.kinoplanung.de
OFFICE PROFILE
KPG specializes in the consulting, design and construction of cinema projects including renovation, modernization, redevelopment, restoration, conversion/extension as well as design concepts for complete cinema complexes and feasibility studies.
CUSTOMER
Kinopolis GmbH & Co. Multiplex KG | Dolby Cinema K1 Mathäser, München
PARTICIPANTS
Dipl.-Ing. (FH) Carolin Fuhrmanski
BA Innenarchitektur Patricia Berchtold
Dipl.-Ing. (FH) Innenarchitektur Friederike Klesper
Source: Bund Deutscher Innenarchitekten (bdia) | bdia-Handbuch 2020/2021
Redakteur: Anne Batisweiler
Photos: Wolfgang Pulfer, München (Dolby Cinema München), Dorothee Elfring, Barcelona (Portrait Anne Batisweiler)