COSMOMAGAZIN IN SEPTEMBER
DESIGN
Her cinemas are straight out of the movies
A different type of silver screen star: Anne Batisweiler, an interior designer specializing in cinemas. Her approach: get rid of the McDonald's ambiance and peep show furnishings and fittings, replace with movie palaces where each theatre appears like Aladdin's cave of wonders. The designer from Munich creates dragon caves and royal chambers, Mephistopheles and spacecraft ambience. The secret of her success? Ideas straight out of the movies and a penchant for perfectionism. "My concepts include the ticket collector and cleaning staff." These days, this Qualified Engineer (Diplomingenieurin) with an additional degree in design from the Berlin University of the Arts also exhibits her projects and teaches cinema design at the University of Applied Science. She calls her cinema cathedrals in Potsdam, Munich, Stuttgart, Ulm and Kornwestheim "edified illusions" and directs each project from the design studio and the construction site. In cinemas by Anne Batisweiler, the lights should never really go out.
Reason for happiness: Anne Batisweiler is Germany's First Lady of cinema design.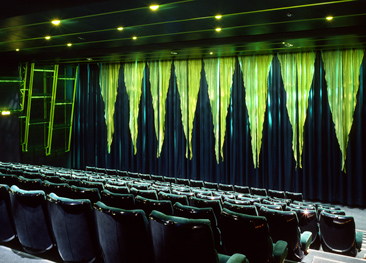 The "Royal" in Munich after Batisweiler: Dragon cave theater in Loch Ness green.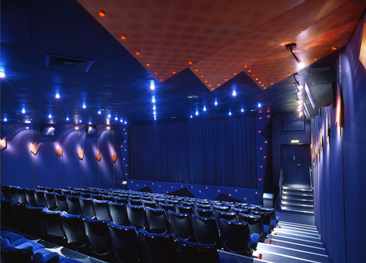 More authentic than Spaceship Orion: The space theater.
And, the pièce de résistance: the Royal Hall.
Source: Cosmopolitan 09/1995
Publisher: Attika Verlag AG
Fotos: Irmin Eitel, Wolfgang Pulfer
www.cosmopolitan.de