Creative lighting concept for cinema enthusiasts
The lighting of the CINEPLEX Cinemas Memmingen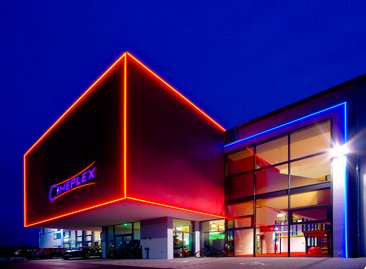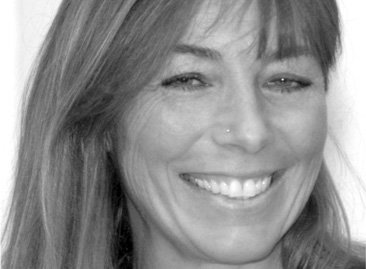 Interior designer Anne Batisweiler's scope of work is broad and multi-faceted. It includes offices, restaurants, stores, clinics, exhibition spaces and private homes. Above all however, she has made an illustrious name for herself in especially in one field, and far beyond the borders of Germany. The Batisweiler firm is one of the leading companies for the redevelopment or conversion of cinemas, technology included. The cinemas Royal-Kino, the Atlantis, the Gabriel-Lichtspiele, Constantin Film or Paramount Pictures in Munich, the Xinedom in Ulm, the Ambo in Stuttgart, the Cinedom in Cologne or the German House of Film in Wiesbaden are only a few of the many cinemas carrying her signature. One of her most beautiful projects is the CINEPLEX in Memmingen, where in addition to the lobby and facade, the entire lighting concept was designed and realized by her firm – using renowned lighting manufacturers such as Oktalite, Moltoluce or the LED-specialist Hansen-Neon.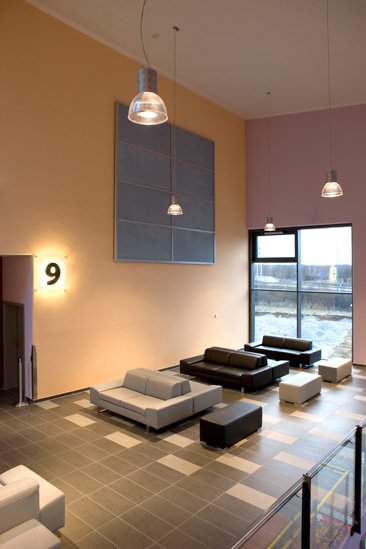 When you enter the lobby, your eyes are immediately drawn to the svelte and elegant ROMANO pendulum light fixtures by MOLTOLUCE, lighting the extra-long counter area – a delicate line of light that places distinct decorative accents in the lobby. The honeycombed shades made of "Serpentine", a high-grade polycarbonate lighting foil available in white, amber or red, of the ROMANO light series create a pleasantly warm lighting ambiance. The light fixture with its extremely aesthetic design is available in nickel or chrome and for a diameter of 158 mm comes in three different lengths – 175, 400 and 600 mm. The light fixture is equipped with an E27 socket for a maximum of 75 Watts. The polycarbonate foil shade is extremely sturdy and easy to maintain and thus very well suited for the area in which it is. The associated "Romano Ponge" models, intended more for residential use, have shades that are covered with precious fabric in white or beige. To designate the auditorium numbers, Anne Batisweiler's team created something very special. The ROMANO series by MOLTOLUCE are also offered as wall / ceiling light fixtures as well as table / stand-up lamps. To identify the auditoriums, the numbers were applied on the polycarbonate shades of the wall model after production. This not only created a consistent appearance, the square 650 x 650 mm sized light fixtures also makes it easy to read the auditorium number from far away.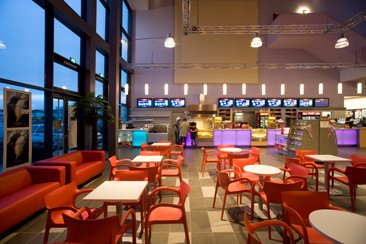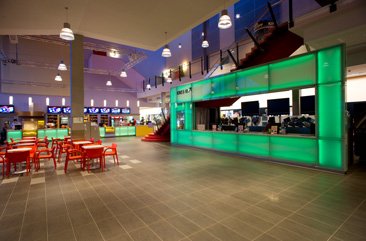 The striking red contour lighting was provided by HANSEN-NEON, a company that started out developing and manufacturing electronic ballast for neon tubes and has been consistently relying on LED technology for many years now. An LED facade profile was used for contour lighting the upper floor, which is composed of two plastic parts. The lower plastic profile contains all the electronics with LED hose, converter and wiring, the upper profile allows for a shadow-less and continuous line of light. HANSEN-NEON offers the 51 mm wide and 53 mm high facade profile in three different lengths (2,000, 1,000, 500 mm, custom lengths possible), optionally equipped with LEDs in white, blue, red, green, yellow and orange. The colours of the upper plastic profile identical with each other (same night / day effect, or coloured at night / white during the day). The white upper part and coloured LEDs create pastel lighting. Pendulum light fixtures model LUNA 420 by OKTALITE illuminate the general interior and the hallways on the upper floor exclusively. The pendulum light fixtures, equipped with fluted poly-carbon reflectors, have integrated ballast technology as well as an integrated interchangeable reflector (except TC-T/E, WFL) and are especially suited for lighting large spaces. The light fixtures are suspended from steel wires (pendulum length 3,000 mm, other lengths on request) and can be fastened either over a 3-phase power track adapter with corresponding power tracks or directly to the ceiling. LUNA 420 is optionally set up for TC-T/E, HIT, HAST-TC and HAST light fixtures and is available in silver (RAL 9006) powder coated (other RAL colours available upon request). LUNA 420 is available in a variety of styles – Super Spot, Spot, Medium Flood, Flood, Wide Flood and Smooth – and can therefore be used for a great variety of lighting applications.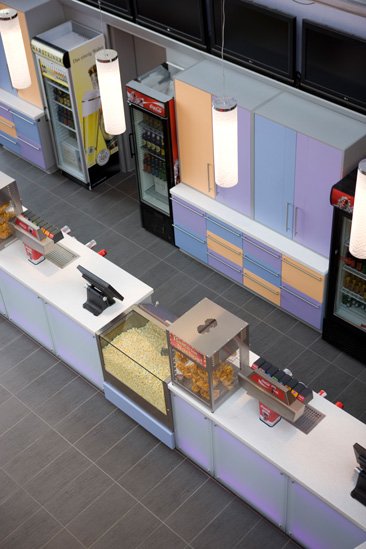 Publisher: PRESS LIGHT
Author: FACTLIGHT PR