Gloria Palast Munich
With the designs of more than 30 cinemas, the Batisweiler architectural office has been able to make a name for itself beyond the national borders. Among the office´s most recent projects is the conversion of the Gloria Palast in Munich.
The combination of fabrics, colors and lighting gives the interior a sophisticated ambience.
Ilse Kubaschewski, founder of Gloria-Filmverleih GmbH, opened the cinema in 1956 in the middle of Munich. At the time, the Gloria Palast with 800 seats was the most modern cinema in Munich and often the venue of magnificent film premieres. Already before the performances, the colorfully illuminated waterworks, built into the stage and with their fountains additionally accompanied by music, were met with enthusiasm.
After the conversion, the cinema now has 230 seats
For the redesign of the cinema, Anne Batisweiler took up the idea of the waterworks for the wall-and ceiling luminaries of the foyer, the corridors and the theater: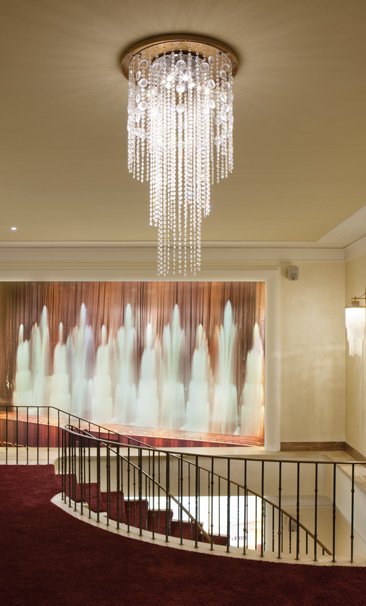 The luminaries consist of reflecting rhinestones and glass pendants which scatter the light like drops of water as small spots across the walls. Indirect lighting from cornices and pilaster strips complements the deep dark red of the carpeted floor and the soft nacre of the walls. Quilted upholstery covers the fronts of the counters with their illuminated contours and bases.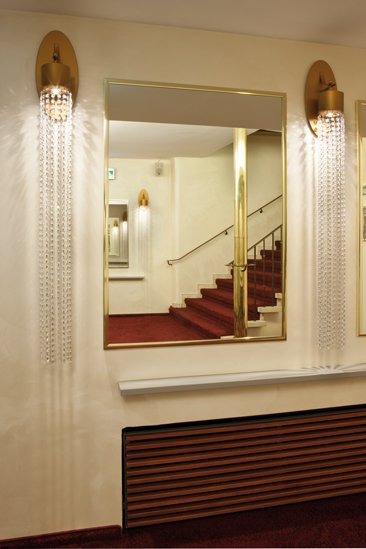 The sophisticated design extends right into the theatre: Its floor is covered with a dark brown, high pile carpet. Extra wide, elegant leather armchairs with small foldable tables elegantly fit into this color scheme. Behind the red-and-white curtains is a back-lit stage.
Design: Anne Batisweiler, Munich
Client: Gloria Palast GmbH, Darmstadt
Location: Karlsplatz 5, Munich
Completion date: Januar 2013
Floor space: 855 qm
Photos: Wolfgang Pulfer, Munich
Source: AIT 09/2014
Author: Vera Cramer
Publisher: Verlagsanstalt Alexander Koch GmbH
www.ait-online.de