GLORIA PALAST. Munich´s first premium cinema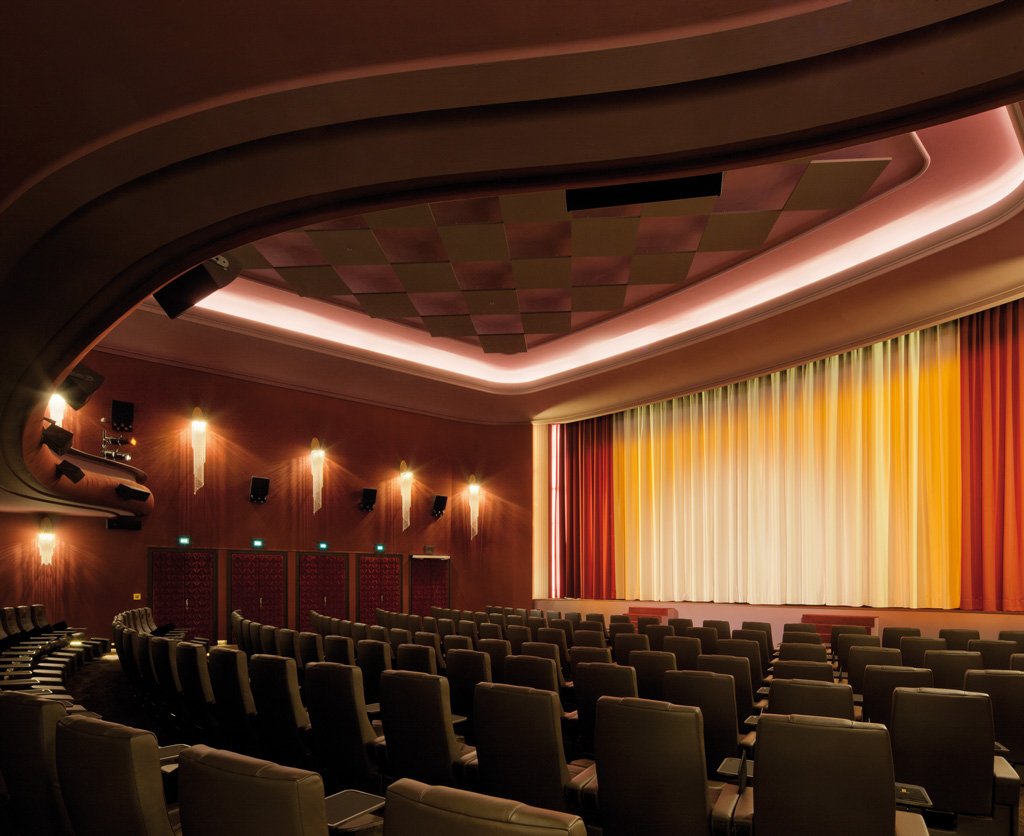 A new type of cinema is making a name for itself. Whereas modern multiplex cinemas primarily target a younger audience, so-called premiere cinemas are now emerging more and more – and not just in Germany. The target audience for this type of cinema is predominantly a more refined and generally a more mature audience, with features and services of these cinemas far exceeding your standard regular cinema. Kinopolis Group, headquartered in Darmstadt, which has been operating cinemas in Germany for four generations since 1905, has returned the Gloria Palast in Munich to renewed splendour by creating a first-class premiere cinema that is unparalleled in Munich. An important element of the overall concept for the Gloria Palast is exceptional service and extensive food and beverage selection. In addition to a free coat check and a welcome drink also included in the price, the Gloria Palast offers patrons the opportunity to choose from a rich selection of food and beverages (which are served directly at their seats, until the start of the feature film) from the comfort of their cinema seats. This allows spectators to enjoy their movie of choice at the Gloria Palast in comfort and relaxation, and with all their senses.
The Gloria Palast program offers a number of special features in addition to the long list of current movie features: regular previews, feature films in their original version and select events featuring music and culture such as live broadcasts from the Metropolitan Opera in New York are all shown here. And, there are almost none of the regular commercials when movies are shown here. Of course, the architecture and design of the new cinema was of particular importance. Anne Batisweiler, the Munich architect specializing in cinemas, merged tradition and modernity with great care and attention. For the renovation of the Gloria Palast it seemed only natural to draw on the water fountain concept. In former times, this cinema was especially known for its impressive waterworks, with fountains dancing in changing coloured lights with musical accompanying by an organist seated in front of the silver screen before the start of the movie. The idea involved making the sparkling water drops reappear, but this time using lighting. And now, shimmering, light-reflecting rhinestones compete with all their sparkling facets and scatter luminous drops of light all around.
Light fixtures available on the market were converted to energy efficient LED technology with warm light colour and fitted with custom designed, gold-lacquered fixtures, concealing the technology. Indirectly lit coves under the ceilings provide the framework. The new colour scheme enhances the verve, vitality, elegance, and grand style of the cinema. Soft, deep red carpets on the floors and stairs in the lobbies contrast with walls shimmering in pale, champagne-coloured mother-of-pearl. The padding on counters and furniture fronts harks back to the zenith of grand cinema with diamond-shaped, diagonal topstitching and rhinestone center cross-seam embellishments, matched by simple Art Deco elements on back splashes.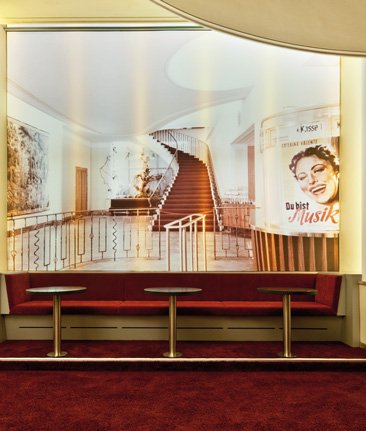 Moveable curved screens and roll able, oval table trolleys make ever-new arrangements possible. Striding through the muted-light corridors, you reach the auditorium. Here, dark brown high-pile carpeting and indirect pedestal lighting instantly create a pleasant and cozy ambience, which you would not expect in this kind of cinema. In order to provide sufficient space for spectators, the current number of seats was cut in less than half from 500 to 240.  Wide, comfortable leather armchairs and footrests for putting up your feet were custom designed for this cinema and provide remarkable seating comfort. Each seat is equipped with a small table – which may be folded away as desired – for food and beverage service. Perfect sightlines, state-of-the-art projection technology, excellent digital surround sound and individually adjustable backrests as well as additional pillows or blankets, available upon request; provide an unparalleled level of comfort. Special highlights are the loges in the first row on the gallery, which recreate the wonderful tradition of the booth.
Great importance was placed on an impressive dramatization of the stage area. The two curtains, one in front in red with discreetly glittering threads and behind it another curtain that shimmers white, with a delicate band structure, open in a custom coordinated sequence. The curtain folds are wrapped in an aura of warm white and orange light. Doubly backlit lesenes and coves frame the commanding stage. Due to the high level of quality and the atmospheric design as well as its exceptional gastronomic and service concept, the Gloria Palast provides an unforgettable cinematic experience.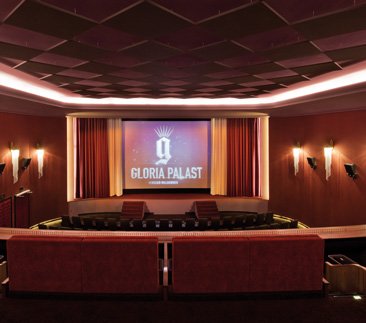 Source: ARCHITEKTUR PREMIUM – 10/2013
Author: Dr. Gregory Theile / AB
Publisher: ProArchitektur Verlags GmbH
www.premium-architektur.eu