Kinopolis CEO Gregory Theile about the new Dolby Cinema
INTERVIEW
"ADVERTISING CINEMA ITSELF" In his view, high-quality offerings are the key to the future of cinema. We spoke to Kinopolis CEO, Gregory Theile, about the new Dolby Cinema.

You too are celebrating an anniversary this summer: You joined the management of your family-owned enterprise 15 years ago. What are the differences between cinema then and now?
Even though the cinema experience has not lost any of its fascination, the market has fundamentally changed in the last 15 years. The year I joined the company, we closed with almost 160 million moviegoers. Last year, as we know, the number of tickets sold was only at 105 million. In addition, the effort and expenditure required to achieve even that number of attendees has significantly increased, not just in terms of communication but also in terms of what a cinema has to offer. However, the past 15-year period also brought many extremely positive developments. In 2004, digital projection and 3D were basically non-existent, only to play a significant role several years later. At the same time, there has been a major improvement in projection quality and sound systems have also made quantum leaps since then. Additionally, the ability to play live content in the theatre using digital projection has allowed us to tap into brand-new audiences. That said, the competitive landscape has also changed drastically in a relatively short time frame. Back in 2004, there was no YouTube, no social media, there were no streaming services or smartphones and gaming was altogether different. Bottom line, it is fair to say that times have grown significantly more competitive.
The opening of the Mathäser Filmpalast replacing the old building complex took place one year earlier. How important is this cinema for Kinopolis today?
Of course, the Mathäser was a stroke of luck for us and continues to play an outstanding role. More than one fifth of all Kinopolis attendees go to the Mathäser. As a result, the overall success of Kinopolis is impacted significantly by this theatre, which in turn poses both, an opportunity as well as a risk. The special attention enjoyed by this movie theatre also inspired us to implement new concepts like the (m)K6 or the Dolby Cinema.
The decision for the most recent major investment was made in a year that saw major downturns in terms of attendees and sales for German cinemas. Did this hamper or motivate your decision?
We are convinced that given the current industry developments, you have to act and make changes. The poor outcomes in recent years have bolstered our conviction to invest even more in our locations, to find even more ways to excite our patrons for cinema, and to provide incentives to go to the movies.
"You always get what you pay for."
On the opening date of the Dolby Cinema, the German market had grown by about ten percent compared to the previous year. Can this upswing last for the rest of the year?
I consider a visitor increase of ten percent and therefore an overall result of about 115 million patrons to be realistic.
In the meantime, the words "death of cinema" appear in the media on a weekly basis, although their number has been increasing for years. Sometimes it seems as if cinema has a PR problem… .
It is actually a paradox that the death of cinemas has been reported for years, while the number of cinemas has increased steadily during the same time period. Nevertheless, it would be misleading to say that cinema in Germany is not undergoing a sort of existential crisis. If market levels don't increase in the long-term, it will definitely impact the number of cinemas in Germany. Therefore, it is important for all of us to focus more on cinema and increase the awareness of its strengths and the fascination that continues to characterize it. In terms of the public image though, we as an industry still have room to grow.
What role do investments play in helping cinemas make positive headlines again, like the one involving the Dolby Cinema?
There are different ways of polishing up the image of cinema for the public's perception. Besides exceptional films, the media is interested in reporting about new concepts and innovations. So, the great interest on the part of the media in connection with the opening of the Dolby Cinema came as no surprise to us. We were excited to be able to use this opportunity to market our new auditorium, but also cinema itself.
"Mathäser Filmpalast was a stroke of luck for us, of course."
These days, viewers and investors are being courted by countless premium or PLF formats. Why precisely was Dolby Cinema selected – and what was the role of the Atmos Auditorium (m)K6 experience?
The extremely positive feedback and the success of the (m)K6 initially motivated us to invest more and to choose new paths. We realized that moviegoers appreciate high-quality offerings, even if it costs them a bit more. Of course, we examined a variety of PLF (premium large format) options. In the end, it was primarily the consistency and uniqueness of the concept that tipped the scales for Dolby Cinema. We were excited and convinced by the idea of starting the movie experience before even entering the auditorium, in the so-called "Audiovisual pathway" (AVP), and then adapting everything in the auditorium to create a perfect movie experience. Atmos Sound at studio level and the incredibly bright image, coupled with the intensive colour palette and a very high contrast ratio are truly magnificent and absolutely unique. When I experienced the first trailers in the Dolby Cinema, my heart skipped several beats, because it was so breathtaking. It may sound cliché, but I have never felt more part of the movie experience.
Are you proud to be the pioneer for Dolby Cinema in Germany – and with a family-owned enterprise at that?
Proud may not be the right word, but it makes me happy to have the opportunity to realize ideas like this and to with a team that worked on this project with total excitement and commitment. In the end, they couldn't wait for the cinema to finally be presented to the public.
"The uniqueness of the concept tipped the scales."
What made the Mathäser in general and Auditorium 1 in particular the ideal candidate for Dolby Cinema?
For this kind of concept, you need a corresponding number of potential moviegoers on one hand and, if possible, a greater number of auditoriums on the other. Patrons should be able to choose whether they would like to see a movie in a regular auditorium or in a Dolby Cinema. The Mathäser Filmpalast offered both. After we decided on this cinema, we soon realized that we didn't just want to convert the auditorium to Dolby requirements, but that we wanted to offer a full experience far beyond the normal standard. In the end, this meant that we constructed an especially long AVP as well as a special foyer and lounge area to complement and supplement the experience in the auditorium. Considering all these aspects, only Auditorium 1 offered this possibility, because fortunately was not only the proper size but also had the required hall geometry.
What did the conversion entail – and who did you put in charge?
First, we repurposed a former gastronomic area next to the auditorium to become the new foyer of the Dolby Cinema, redesigning everything from floor to ceiling, including furnishings. The actual entrance to the Dolby Cinema – the AVP – was then built in one section of the foyer, as it required a new cinema entrance as well as breaking through a structural wall. As for the auditorium itself, we gutted it, adapted the ramp, revamped flooring, walls and ceilings, installed new seating, speakers and a new screen, and equipped the projection room with the heart of the Dolby Cinema, the new sound and projection technology. We entrusted this very challenging conversion to Batisweiler Architecture Firm, with whom we already had a great experience redeveloping the Gloria Palast. And, once again, they did an excellent job. Many people from our administration team and the Mathäser were also involved, including Jan Harmsen, who managed the project internally and very successfully for us.
With this premium cinema, you are positioning yourself in an environment which most recently has also been characterized by low-price strategies. Why do you feel you are on the right path?
For cinema to make it in future, it has to be a special place, offering something that you cannot find anywhere else. You always get what you pay for. Most recently, this was evidenced during our experience with the Gloria Palast: Although it is by far our most expensive cinema, there are never any discussions or complaints about the price being too high. However, if the offering is not convincing, no one will bother coming back just to save two or three euros.
In the end, isn't it also important to target a certain audience?
Yes, of course. Expectations of a cinema experience can vary greatly depending on the circumstances. While for one patron comfort and personal seat service may be very important one day, next time the expectation may be nothing less than to experience the movie in absolute perfect sound and image quality.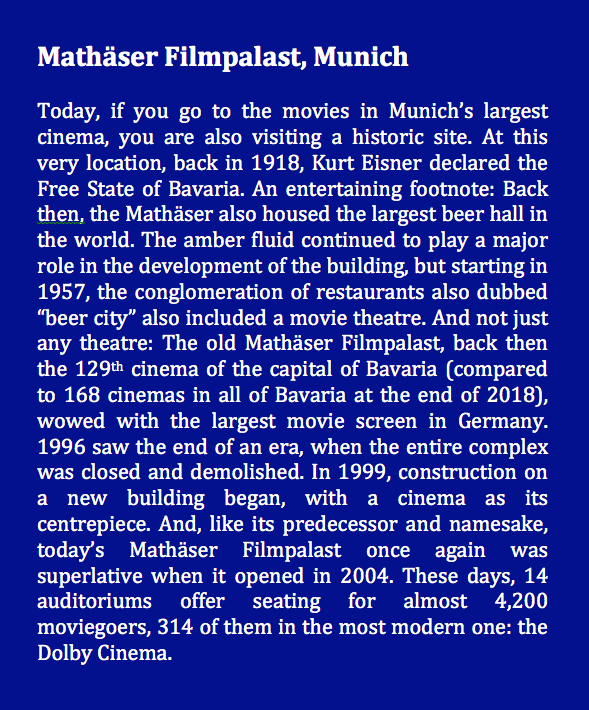 Starting in 2020, a funding program by the federal government is supposed to facilitate investments in small town cinemas. Would it be unreasonable to demand this support also for a large mainstream cinema?
"Moviegoers appreciate high-quality offerings."
When it comes to preserving and strengthening cinema as a location, the objective should not hinge on location, size or the movies shown. In the final analysis, it all comes down to the moviegoer, whose movie experience should be improved, because of the funding. In my view, if support is reserved for moviegoers in smaller towns only, or tied to a certain cinema or movie preference, it wouldn't make any sense. I do not believe that funding eligibility and need should be based on the size of a cinema.
In the meantime, Kinopolis has set an environmental example with the Dolby Cinema?
Since the topic of sustainability has become increasingly important for us, we started a reusable system for beverage cups at the Dolby Cinema and are also using popcorn bags made from recycled materials.
Any ideas for additional renovations – or can other Kinopolis locations hope for a Dolby cinema?
We will equip additional locations with D-Box this year and are planning on equipping nine other auditoriums with Dolby Atmos; seating changes are also on the horizon. However, currently there are no concrete plans for a second Dolby Cinema. If our expectations are met, then we will certainly be considering it in the near future.
Source: BLICKPUNKT:FILM – SPEZIAL | Dolby Cinema im Mathäser |Juni 2019
Publisher: Blickpunkt:Film GmbH
Editor: Marc Mensch
Photographer: Holger Rauner, Andreas Büttner