RENEWED SPLENDOUR AT THE GLORIA
Munich's Gloria Palast shines as re-designed premiere cinema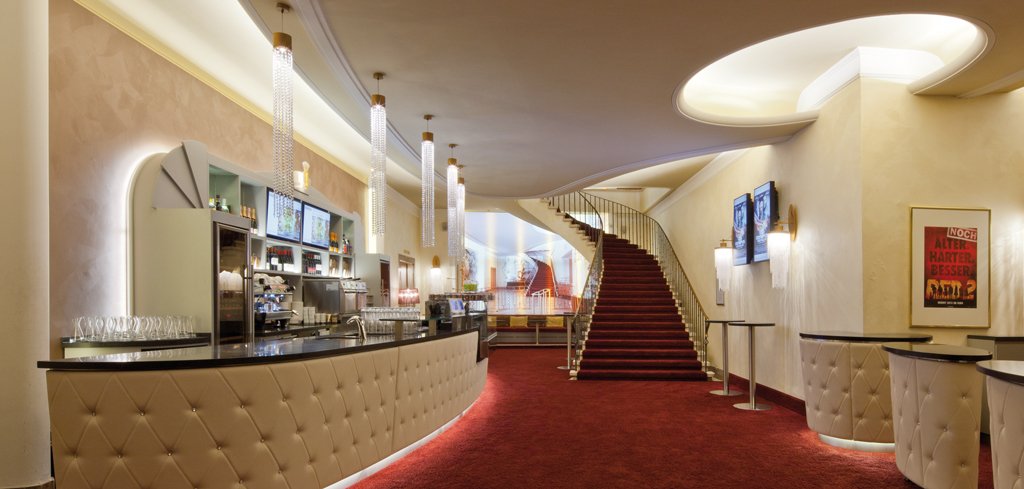 Gloria Palast: The name alone evokes images of grand style, glitz and glamour à la Hollywood. When you enter the lobby of this traditional cinema in Munich at the Stachus, and see the curving, tapered staircase with its delicate railing you are literally stepping back in time … imagining Grace Kelly descending the red carpet on Alfred Hitchcock's arm.
With the Gloria Palast, Ilse Kubaschewski, the grand dame of German cinema in the 1950's and 60's, was able to realize her dream of presenting "her movies" in her very own cinema as the head distributor. One glamorous premiere followed the next and international film stars made their entrance before the eyes of the press.
In addition to its stylish ambiance, the Gloria Palast used to sparkle with its water fountains. Before the show, an organist provided musical accompaniment to the dancing water fountains lit up by colourful lights.
When the Gloria Palast was redeveloped into a premiere cinema last year, imbuing it with new glamour, Anne Batisweiler, the Munich designer, realized right away that the water fountains had to be resurrected as well.
And, this is how the concept of using lighting to make the sparkling drops of water visible again came into being. These days, light-catching rhinestones and glass pendants scatter drops of light like water all around.
Light fixtures available on the market were converted to energy efficient LED technology emitting a warm light colour and fitted with a custom designed, gold-lacquered fixture. The fountains seem to drip along the walls of the cinema in the flattering light of the crystals just like the sparkling glass bead chains in the lobbies on three levels appear to flow from ceiling and walls. Indirect cove lighting and lesenes provide the framework.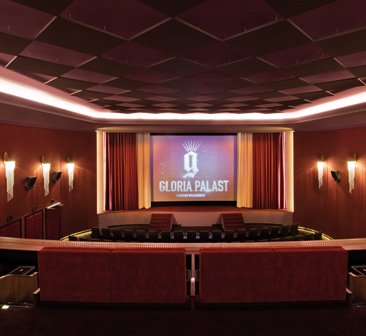 The new colour scheme enhances the verve, vitality, elegance and grand style of this cinema. Soft, deep red carpeted floors and stairs in the lobbies contrast with walls shimmering in pale, champagne-coloured mother-of-pearl. The padding on counters and furniture fronts harks back to the swinging 1950's with diamond shape topstitching and rhinestone embellishment, with matching simple Art Deco elements.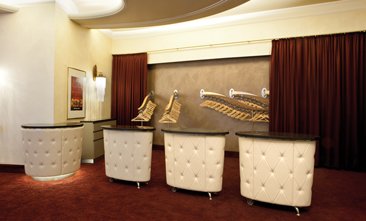 In days gone by it was expected, but today you rarely get it: coat-check free of charge. During the summer months, the components can be folded away behind a red curtain either partially or completely, thus creating additional space in the lobby. Moveable screen and roll able, oval table trolleys always make new arrangements possible.
The auditorium also surpasses the usual cinema ambience. In addition to deep-pile, dark brown carpeting and the indirect pedestal lighting, there are wide, comfortable leather armchairs and foot rests to put up your feet, custom designed for this cinema. For the consumption of exquisite dishes and beverages, which are of course delivered to the seat, each place has a small table that can be folded away as desired.
Perfect viewing conditions, razor-sharp images, excellent digital surround sound, individually adjustable backrests and additional pillows or blankets turn this cinema into divine luxury. The designer placed great importance on the impressive dramatization of the stage area. The two curtains, one in front in red with discreetly glittering threads, and behind it another curtain shimmering white, with a delicate band structure, open in a custom coordinated sequence. The curtain folds are wrapped in an aura of warm white and orange light. Welcome to the new Gloria Palast! "Roll film!"
Source: CUBE – 01/2014
Author: AB
Publisher: b1 communication GmbH
www.cube-magazin.de