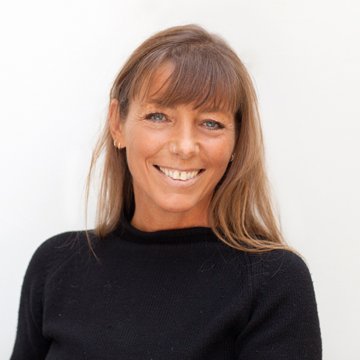 ANNE BATISWEILER – Dipl.-Ing. (FH) Innenarchitektur, Dipl.-Designerin,
Management
Anne Batisweiler. Aka the "the Medium" for cinema on a grand scale. She is following her calling and loving it, bringing a holistic and passionate approach to the design and realization of client-projects. The personal and the professional are inextricably linked in her life.
Great things come from Munich's West End: Our exciting creative large-scale projects get started at a heritage villa in the Munich district of Pasing. Creative minds are busy at work here – with a resourceful and inventive view to the overall requirements coupled with graduate expertise and the added touch of technical skill. Her focus in all of her projects is on providing spectators with real entertainment. Great thinking, Anne: Where else can you bring joy to thousands of people every day, if not at the movies!
Time-lapse vs. slow motion: For Anne, 24 hours, 100% and the whole world are not enough. She gives it her all, putting the pedal to the metal. In harmony with the elements, she confidently navigates every terrain: whether it is on her motorbike, over a design layout, on her skis or snowboard, at the construction site, on the yoga mat, at a meeting or paragliding high up in the sky…
Pouring her heart and soul into sharing her knowledge and experience to the same extent, she appreciates open and direct teamwork and values reliability, accuracy and timeliness.
She prefers to work with like-minded people, who also approach work with the same joy, excitement and passion. And this, the right mix, is producing excellent results; results that are not only visible, but can also be experienced. As one client put it: "You guys are worth every cent!"
Anne's storyboard looks like an exciting combination of "Million Dollar Baby," "A League of Their Own" and "Lara Croft." Here are some glimpses into her "script": Fresh out of university, she worked as "starlet" and lone warrior with a penchant for perfectionism in a very competitive male-dominated world. Although just starting out in the profession, she was allowed to design the entire Mathaeser Munich entertainment complex (multiplex cinema). Even though at the time she did not receive the recognition and credit she deserved, the scene has a happy end after all.
These days, she values and enjoys dynamic team-work with proven results: In the world of cinema design, her company has morphed into a shining star – without any airs.
In short: This woman has power, innovation and imagination as well as passion … Next exit: Hollywood…
Favourite movie:  The Women, 1939, Director: George Cukor
Motto: It will not work, does not work!
Loves: Sustainability, ecology, economics, nature, sports,
holistic view, humanity, music, arts and culture