Gloria Palast, Munich
Ilse Kubaschewski, the grand dame of German cinema in the 50's and 60's, realized her dream of presenting "her movies" in her very own cinema as the head distributor. Unfortunately, during the following decades, this cinema housed in a heritage building had lost its former luster.
Not much remained of the once sophisticated ambiance of the Gloria Palast cinema, when one glamorous movie premiere followed the next and movie stars from around the world rendezvoused here. The unique waterworks, fountains dancing in changing colourful lights accompanied by an organ player under the stage, had been demolished long ago. Even a half-hearted renovation in the late 80's could not imbue the former "show home" with new life. It was against this backdrop that the cinema operator decided to implement a brand-new idea for this old jewel.
In 2012, Kinopolis commissioned us to submit proposals for modernizing and remodeling the cinema to transform it into an exclusive premium cinema. In the 80's, the originally approximately 800 seats had already been reduced to almost 500 seats. Now, that number of seats was to be cut in half, and instead everything was to be luxurious and with a special ambiance. In order to achieve a brilliant comeback, we were tasked with developing a design concept that would build on the glamour of the past yet still live up to all modern technological and functional requirements. Dealing with this heritage building, its basic structure, the quality of the assets required a great deal of finesse. This, coupled with the power of imagination for a special location, turned the Gloria into a palace once again.
The key idea came from the former water works. Instead of brilliant drops of water, light fixtures in the form of fountains with rhinestones using energy-efficient LED technology were designed. Sweeping, indirect cove lighting in the foyer supports the dynamic elegance of the curved staircase covered in soft, dark red carpet. Walls shimmering in champagne hues and mother-of-pearl, cream-coloured padding on counters and furniture fronts, which are topstitched in diamond shape and embellished at the crossing points with rhinestones, are reviving the Swinging Fifties. Even the coatrooms are well designed. In the summer months, when coats are rarely required, a section or even the entire coat-rack can be folded away behind a red curtain, thereby creating additional space in the foyer. With matching movable screens and oval table trolleys the space can be utilized in a variety of ways.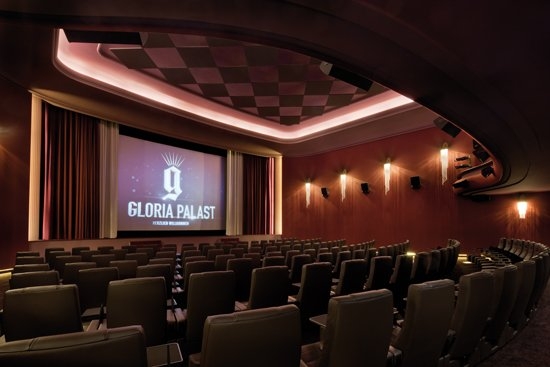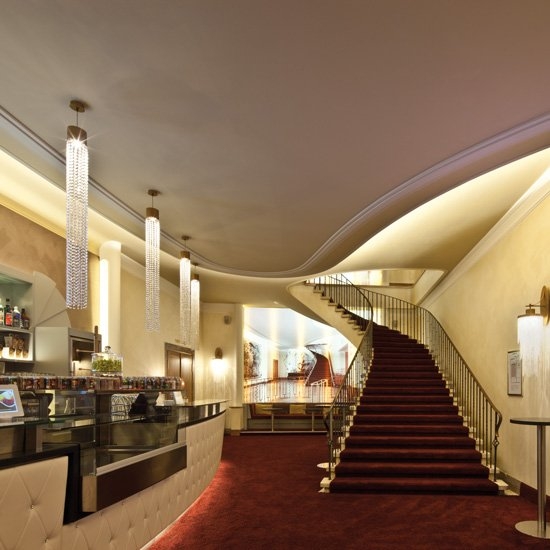 The auditorium far surpasses any normal cinema. Extra-wide, comfortable leather chairs and footrests were custom designed for this movie theater. Each leather chair is equipped with an individually adjustable backrest and a folding table to enjoy exquisite food and beverages, which are of course served to you at your seat. A perfect view, a razor sharp image, excellent digital surround sound and on request extra pillows or blankets, all this is sheer luxury. Two curtains open dramatically in a special coordinated sequence to begin the show, one red with subtle glitter threads and the other shimmering white with a delicate striped finish.
The cinema operator realized that this special location would only attract patrons with an exclusive concept and an exceptional and attractive design. The investments were to be recouped and in addition the percentage of seats sold would have to be significantly increased. For the design, these types of prerequisites meant that the business operation must be optimized and supported by superior furnishings with a fitting arrangement, energy-efficient technology, durable and easy-care materials and surfaces, while also creating an environment that exemplifies comfort and luxury.
The unique layout, which was based on the historical highlight of the waterworks from days gone by, creates a special ambiance. While older patrons may still remember the first rows of seats as being somewhat damp because of the water fountains, these days, you can relax and put your feet up in comfortable leather seats to truly enjoy the movie experience. The sweeping, red-carpeted staircase in the foyer evokes images of glamorous Hollywood stars in their elegant evening gowns gliding down the proverbial "Red Carpet" just as much as the shimmering walls and the padded counters. All of these aspects create a special and memorable experience for patrons – a great story to share – and a desire to return. For employees, this cinema is also a special place, as it is a distinction for them to work here. The exclusivity provides ample opportunity for additional use, such as for opera broadcasts (which always sell out very quickly) or special events (which are very sought after). These in turn make a major contribution to the operation of an economically successful premium movie theatre.