Motion pictures as dream factory – a major challenge for lighting specialists – Part 1
Motion-picture theatre – this term is aptly rendered in German as Lichtspieltheater: "light playhouse". Movies as the art of playing with light!
Major challenges for lighting specialists include not only projections of the film onto the screen of a cinema: a very spezial and essential assignment also includes immersing the space and colours experiended by cinemagoers in a pleasant ambience, in the creation of a cosy as well as exciting atmosphere. The whole objective, of course, is to provide a medium in which mood, illusion, and glamour á la Hollywood can be successfully conveyed,. Despite the primary elements of playfulness in motion-picture theatres, however, wall-finish lighting, panic lighting, and emergency lighting elements also play a significant role in cinema operations. This responsibility demands a great deal of expertise from light designers – and their work is hardly possible nowadays without successful collaboration with lighting experts, light tests, and computer-aided design techniques. Indeed: a great mumber and vraity of officialstipulations and client expectations must be taken into account.
In order to get behind some of the secrets of playing with light, we have investigated a number of cinema projects carried out by the Munich interior designers Anne Batsweiler and Barbara Adelmann, in collaboration with LINIE 8, Lichttechnik München.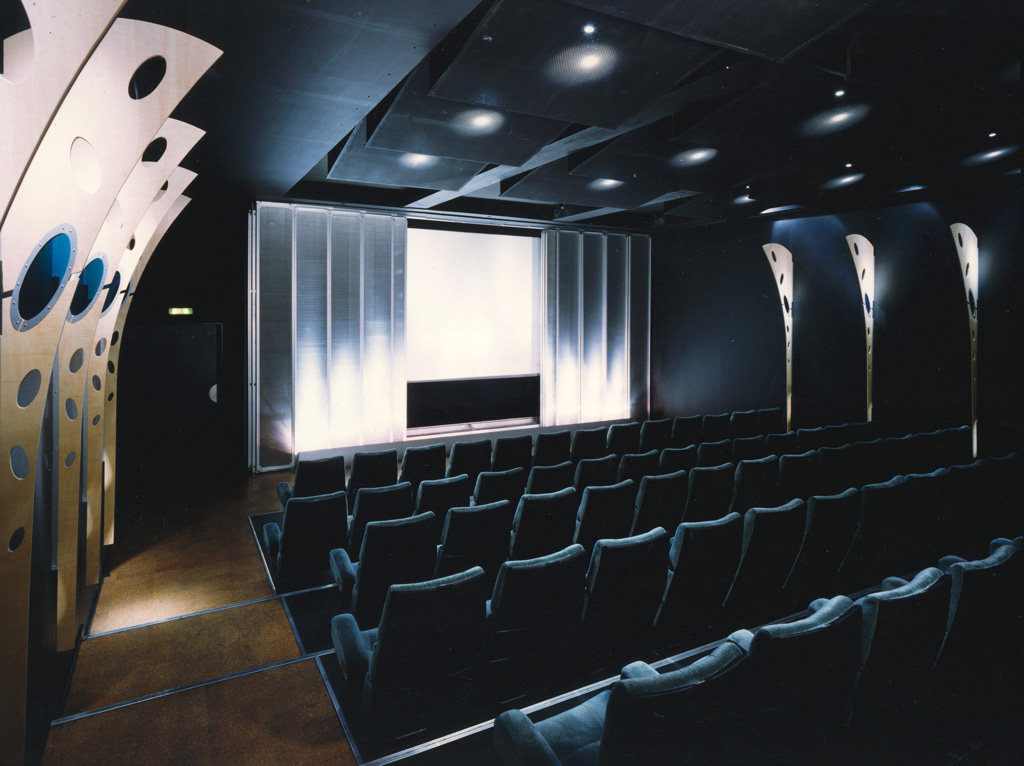 The Atelier
ATELIER – CINEMA IN MUNICH
Design concepts and ideas: the ATELIER-2 Theatre

The design of the Atelier cinema (good things come in small packages) was to be very different from conventional movie theaters. With budget and time constraints (i.e. no time for experimentation), the existing material was assessed and plans were made to use them in the most effective and exiting manner.
Materials such as extruded metal, plywood, cork and linoleum were considered. This gave rise to the design concept of contrasting warm with cool: green lounge chairs on a honey-coloured cork floor and a dark linoleum floor against the frosty silver shine of aluminum curtains. The wall panels were designed to be wood, varnished clear and black, combined with riveted metal profile sections.
While the audience gradually fills the dimly lit theatre, narrow rhythmically alternating beams of light light up (and through) the plywood wall panels along the side. The dark-green Plexiglas ellipses where the upper and lower portion of the "magic trees" meet cast alternating elongated green shadows to the front and back of the walls. Just when you think you have discovered one colour-light-shadow combination, it magically disappears only to reappear seconds later.
The stage curtain à la "Open Sesame" is especially eye-catching. It consists of cast aluminum components that slide behind one another on both sides. A floor-mounted lighting shaft with crimped mesh and low voltage lamps is located in the front and the back respectively.
When closed, the "curtain" is only lit from the front and below, making the cast components sparkle and shine. At show time, a matrix is used to dim the front lighting and to turn up the back row of lights. Suddenly the cast components become translucent like a veil, revealing the screen behind it. The curtain glides aside slowly from the centre. Film screening can begin…
THE LOBBY OF THE ATELIER THEATRE
The blue shimmering light of the projection booth is already visible as you approach. Here, cinema technology is not concealed, it is shown in the right light: visible through large panes of glass behind the ticket and sales counter. "This is what it looks like; this is where the film that we watch in the theater is played." While waiting to enter the theatre, you can watch the projectionist load films.
The materials utilized in the lobby (cork, MDF, stainless steel and aluminum) and contrasting colours (warm – cool) already set the tone for what is to come. The clearly defined lines and shapes were purposely selected to create space and effect for the large and small multicoloured items, the patrons, the posters, the candy.
The poster panels have a dramatic impact, even without movie posters! The decorator can fix scene photos and movie posters to thin stainless steel wires in the iron mica lacquered frames using small alligator clips. Even the restroom symbols were included in the design…! Design everywhere.
Thoughts about lighting
When I was a student at university, lighting was not a big topic and was not taught as a course. Fortunately, things have changed a lot since then. Therefore, it was a great boon when I was able to work with a lighting design firm on various projects, which shared a great deal of knowledge about lamps, illuminants, lighting and illumination with me. First, I had to hone my sensibility for and observation of lighting design and lighting colours independently from knowledge of the many technical requirements and possibilities. Although many of us can tell when the lighting is right, the secret lies in knowing why. This has much to do with sensibility, experience and expertise. It also requires constant work in this medium, to stay abreast of state-of-the-art developments and possibilities. Light is more than simply illumination. Light is mood, excitement, colour, movement or calmness, play with shadow and form, liveliness, warmth or coolness, brightness or simply non-existent. Light corresponds to our senses; we experience it "sensually." It affects our emotions, helps our mind to work, and in life.
These days I simply cannot imagine interior or spatial design without corresponding lighting design. It would be unthinkable without it. Furniture, goods, zones, objects, people… – everything has to be put in the right light; otherwise, even the best design does not come across as such.
Statements
A selection based on sensibility…
 Each project has its own unique history. Therefore, I create a customized design for each one.
Good design is like solving a mathematical problem: Functions, features, materials and colours interact with each other to provide an optimal solution. I want to create overall, complete designs – not patchwork.
There is a solution to every problem and every requirement – often several, if you like to work meticulously and have ideas.
The functional requirements come first, followed by design using materials, shapes and colours. Costs also play a role, of course.
When I am designing something, I always strive to put myself into the position of all of the users of these spaces and furnishings; e.g. the movie patron, the ticket vendor, the cinema operator, the cleaning staff, the caretaker, etc.
The fewer materials, colours, surfaces and structures go into design implementation, the better. This simplifies, soothes and is low-maintenance.
Light and colour largely determine the design and the atmosphere. Here, light is more important than lamps. Colour also has a function.
I am only satisfied when my clients are. Even then, sometimes I am still not satisfied.
I do not want to follow one design concept. Creativity comes through variety. Nevertheless, there will be a personal touch.
I love placing well-known objects into a completely new context.
Anne Batisweiler introduces herself
Profile:
Education: 1982 – 1987
Interior Design Degree Program at the University of Applied Sciences, Rosenheim: 1987 – 1990
Visual Communication Degree Program at Berlin University of Arts and Design: 1988 – 1990 Scholarship
Profession
Self-employed since 1990
Self-employed/ independent as Interior Designer, Designer and Exhibition Designer
1990 – 1991
University teaching position for the course "Designing" in the Interior Design Faculty at the University of Applied Sciences, Rosenheim
Since 1991
University teaching position for "Material Science" and "Model Construction" in the Stage Design program at the University of Applied Sciences, Rosenheim
1992 – 1994
Collaboration with Qualified Engineer (Dipl.-Ing, FH) Barbara Adelmann, on a project-basis
Projects
Since 1990
Shops, offices, cafeterias, cafes, bars, discos, foyers/ lobbies and theatres, exhibition booths, multimedia shows, Oktoberfest tent, exhibition designs, arcades, attic conversions, apartments, clinics, facades, roofing/ canopies, renovations …
Presentations
Since 1990
Various exhibitions and publications
Source: LICHT – 02/1996
Author: Anne Batisweiler
Publisher: Richard Pflaum Verlag GmbH & Co. KG
www.lichtnet.de