The architectural design of cinemas
"Exciting Developments"
Munich – The future starts on the inside. Turning cinemas into unique experiences for patrons, attractive and customized interior design is gaining in importance. Although the number of cinemas may have decreased in recent years, we are celebrating new openings and new buildings on a regular basis.
The shape and design of facades, as well as their height do not just have to be in line with client wishes and those of his architect, but are also subject to a host of rules and regulations.
"Especially if you are looking to build a cinema in the downtown core, you have to adapt to the already existing building styles. There are definite specifications by building/ construction authorities, which must be considered in the architectural plans for the exterior structure, starting with the types of materials and colours", according to Christian Pelzer of the company Deutsche Theaterbau GmbH, which has been designing cinemas since 1949. Christian Pelzer says that the dominant construction principle is a reinforced-concrete skeleton construction: "Due to the enormous size of the spaces, extra-wide stretch ceilings are necessary, constructed in a material that can bridge large spans. The frame is reinforced concrete and there are two choices for the partitioning walls: either they are also built out of concrete or in a lightweight construction. In that case only the bearing columns are concrete while the rest is standard drywall, which does not add as much weight. In both instances, skeleton construction ensures the greatest degree of stability."
According to Anne Batisweiler, architect and interior designer in Munich, the basic construction of a cinema building does not have to change fundamentally for the foreseeable period of time. According to her, a central objective is its interior design: As an operator you have to think about how cinema stands out from other media (e.g. TV, Internet and digital devices) and what type of exclusive value it can add." In addition to projection and sound technology of the highest quality, a special ambiance is also in demand.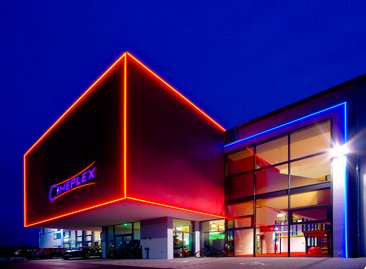 Das CINEPLEX in Memmingen, im Dezember 2007 eröffnet, shining in modern splendour.
Babette Lischka of Huber Lischka Architekten GmbH in Munich shares this perspective. For her, the appeal of a cinema already starts in the foyer: "Especially with multiplex cinemas, you often have amazing auditoriums with state-of-the art technology, but their foyers are more reminiscent of train stations – very empty, bare and lacking in character. They have an impersonal feel, especially for an older audience."
Cinema as a "destination" should promise patrons a comfortable and enjoyable evening as soon as they enter, with ticket and concession sales being as efficient and smooth as possible. Counter lengths of 15 meters or longer are no longer a rarity these days, making it possible to provide faster services and to avoid lineups. In general however, foyers could have even more features, feels Babette Lischka. "Only a few cinema operators have been able to entice patrons to visit their bar or restaurant next door as well. An alternative would be for sales counters to increase the number of products, so that you can sit down and have a coffee or a glass of wine in a beautifully designed bar in the foyer."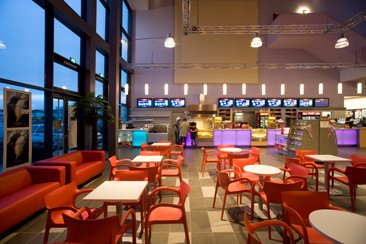 Foyer CINEPLEX in Memmingen
Thomas Kreiter, who manages the architect and engineering firm Kreiter, participated in the design of the Cineplex-Filmtheaters in Memmingen and Penzing that opened in 2007 and 2013. Since they also target family audiences, he integrated playgrounds in both foyers, which are only separated by glass walls. "In general, everything should be very bright, with a lot of light and therefore appealing to patrons. We also did not separate the cashier areas from the foyer, because we wanted it to be more open", says Thomas Kreiter, who prefers compact, functional shapes in the interior and the exterior.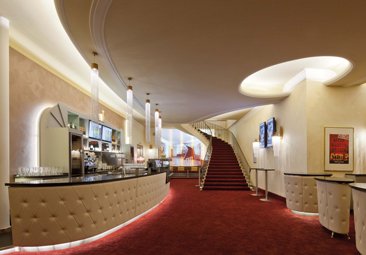 Unmatched elegance: der Gloria Filmpalast in München
For Anne Batisweiler, another key issue is how the experience of cinema can be further heightened using technology – not just in the auditoriums, but also in the foyers. In her view, lighting plays an important role here. She criticizes cold, daylight-type lighting as it does not contribute to a pleasant atmosphere. In her opinion, it is horrible on the eyes. Especially in the evening hours, this light is too glaring and strong. Lighting in softer or warm tones is a lot better. In the foyer, this could also be combined with backlighting and projections of any imaginable type, in future also including holographic components. The developments in lighting technology are quite exciting, offering brand-new scenarios and giving visitors a feeling of being in a totally different world. Certainly not right away, but in the next ten to twenty years."
The trend for auditoriums is upscale cinema with comfortable seating, plenty of leg-room and high-quality equipment. To ensure optimum sightlines for all patrons, seating should be arranged in a tiered fashion like in an amphitheatre, instead of on one level. "Here, we provide a ramping system, which is installed after the shell construction is completed. It consists of a steel construction, which is covered with special boards. The advantage of this system is that it can be disassembled at any time. If the cinema ceases operations, the auditoriums can easily be repurposed", explains Pelzer. "In the past, when concrete construction was still common, you had to then tear down the entire building." Furthermore, increasingly complex sound systems necessitate larger auditoriums – especially if they, e.g. like Dolby Atmos, also include a large number of ceiling speakers. "This entails a huge amount of cabling. The higher the auditorium, the better. The booths also impact the design. They come into play especially when it comes to lighting design, because the positioning of loudspeakers and light fixtures must be adapted to each other", explains Andreas Herrmann of Architekturbüro Gruppe Bau Art. Any retro-fitting is a lot more complicated. To properly install the booths, the ceiling has to be lowered – and this measure, according to Pelzer, can be problematic: "In most auditoriums, the projection beam usually runs very close to the ceiling. Of course, the speakers cannot be in this beam. This means that a certain room depth is required, because you cannot just place the projector at a lower level in every situation, as a compromise." In the projection booth on the other hand, it is possible to save space. Since clunky analog technology is a thing of the past, these spaces are usually only one third in size of what they used to be. This means either larger auditoriums or additional storage space. The first auditoriums without a projection booth have already been built. "The projector disappears in a false ceiling behind the auditorium. In China, projection booths have all but disappeared. There, the projectors are either suspended in the auditorium or are situated in a false ceiling behind the auditorium", according to Andreas Herrmann. Pelzer adds that mounting the projector directly in the auditorium can only be done under specific sound acoustic conditions. Recently he has been working with his company on retrofitting many cinema stage areas, to adapt them to a variety of uses. "For example, we install multi-media connections to expand the use from movie presentations to panel discussions or music performances."

Source: 
BLICKPUNKT:FILM – 20/2014
Author: Alexander Kolbe
Publisher: Busch Entertainment Media GmbH
www.mediabiz.de